Biblical Questions & Answers
Why do I need to be saved?
When Adam and Eve disobeyed God in the garden of Eden, sin and death entered the bloodline of mankind.  As a result, we are all born with sin nature and with a limited number of years to live.Mankind needed something to bridge the gap driven between him and his Creator.  In Genesis 3:15, God declared that one day a woman would give birth to a baby who grow into the man to accomplish this.  This man was known as the "Messiah" or "Annointed One" in Old Testament prophesy.  Today, we know him as Jesus Christ.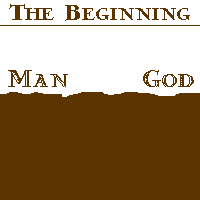 Jesus declared in John 14:6, "…I am the way, the truth, and the life: no man cometh unto the Father, but by me."  Because of what Jesus accomplished through his life, death, resurrection, and ascension, we now can receive the gift of salvation.  When we accept it, we accept the washing away of all our sins through the blood of Jesus Christ.  And God accepts us as one of His own dear children and gives us the gift of eternal life with Him.
Click here to see an animation on what Jesus did for us.
Click here to see an animation on Jesus' resurrection.
How do I become saved?
Romans 10:9-10 states it clearly:  "That if thou shalt confess with thy mouth the Lord Jesus, and shalt believe in thine heart that God hath raised him from the dead, thou shalt be saved.  For with the heart man believeth unto righteousness; and with the mouth confession is made unto salvation."
It's 2 parts:
1)  You need to confess with your mouth that Jesus is Lord. (This means that you are making Him your Lord as well as your Saviour.  To make Him Lord is to put Him first in your life and to repent, or "turn away", from the old sinful habits.)  This does not have to be done in front of a large group.  When we do this, the verse says that we receive salvation.
2)  You need to believe in your heart that God did raise Jesus from the dead.  The verse uses the phrase, "…believe in thine heart…", to emphasize how this needs to be a heart-felt faith or belief.  When we do this, the verse says that we receive righteousness, which is to be acceptable to God.
That's all it takes from us to be saved.  We can't earn it through works.  It's already been earned by Jesus Christ.  We simply accept it by grace and through faith.
Can't I get into heaven by being a "good person"?
No.  Isaiah 64:6 states, "But we are all as an unclean [thing], and all our righteousnesses [are] as filthy rags; and we all do fade as a leaf; and our iniquities, like the wind, have taken us away."   To God, the best that we can be is still like filthy rags.
Galatians 3:2-3 says, "This only would I learn of you, Received ye the Spirit by the works of the law, or by the hearing of faith?  Are ye so foolish? having begun in the Spirit, are ye now made perfect by the flesh?"  In other words, the verses are asking the Christians whether they received the Holy Spirit by being good or by faith, as stated in Romans 10:9-10 in the second question above.  The obvious answer is that they received it through faith.  The verses then go on to ask if they are so foolish now to think that after being saved by the Holy Spirit through faith, they are now made perfect by good works.  This was because the church at Galatia had fallen back into practicing the Old Testament law, thinking that it would make them even more righteous than they had been made when they become born again.
Hebrews 7:19 states, "For the law made nothing perfect, but the bringing in of a better hope [did]; by the which we draw nigh unto God."  That "better hope" is Jesus Christ.  As we saw in an earlier question, Jesus Christ is the way, the truth, and the life, and no man comes to the Father but by Him."  So no matter how good we are, no matter how devout a Jew, Moslim, Buddhist, or Hindu we are, no matter how much money we give to charities or even how much we read the Bible or go to church or mass, unless we have received Jesus Christ as stated in Romans 10:9-10, we are not going to Heaven.
There is an old saying that states, "The way to heaven is the exact width of Jesus' shoulders."
Don't I need to be baptized to be saved?
No.  Remember Romans 10:9-10?  Was there any mention of water baptism?
Mark 1:8  "I (John the Baptist) indeed have baptized you with water: but he (Jesus Christ) shall baptize you with the Holy Ghost."
Acts 1:5  "For John truly baptized with water; but ye shall be baptized with the Holy Ghost not many days hence. "
Acts 10:47  (These people had already received the Holy Spirit but had not yet been baptized.  This shows that the two acts are not the same thing.) "Can any man forbid water, that these should not be baptized, which have received the Holy Ghost as well as we? "
Acts 11:16  "Then remembered I the word of the Lord, how that he said, John indeed baptized with water; but ye shall be baptized with the Holy Ghost. "
Acts 8:14-17  (These people had already been baptized but had not yet received the Holy Spirit.  This shows that the two acts are not the same thing.) "Now when the apostles which were at Jerusalem heard that Samaria had received the word of God, they sent unto them Peter and John: Who, when they were come down, prayed for them, that they might receive the Holy Ghost: (For as yet he was fallen upon none of them: only they were baptized in the name of the Lord Jesus.) Then laid they [their] hands on them, and they received the Holy Ghost."
OK, then why should I get baptized?
First, we are following the example and commands set by Jesus for the twelve apostles and His disciples.  There are multiple verses dealing with baptism in the four Gospels of Matthew, Mark, Luke, and John.  There are also multiple verses dealing with baptism in the book of Acts, which chronicles the actions of the church after Jesus Christ's ascension.  Before Jesus ascended into Heaven, he commanded the apostles in Matthew 28:19 to, "Go ye therefore, and teach all nations, baptizing them in the name of the Father, and of the Son, and of the Holy Ghost:"
Baptism is symbolic of our repentance, or turning away from our old sinful ways, when we become born again: Romans 6:3-4 states,  "Know ye not, that so many of us as were baptized into Jesus Christ were baptized into his death?  Therefore we are buried with him by baptism into death: that like as Christ was raised up from the dead by the glory of the Father, even so we also should walk in newness of life."
It is our public expression of our inner faith.  When we are baptized, we are testifying that we have accepted Jesus Christ as our Lord and Saviour and will now follow His example.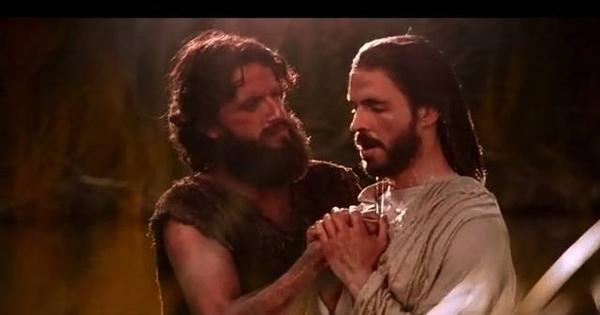 Baptism:  Sprinkle or dip?
The words used for "baptize", "baptizing", and "baptized" in the Bible are variations of the Greek word "baptizo".  "Baptizo" means to dip, immerse, or submerge.  Remember, we saw in an earlier verse that baptism is symbolic of Jesus going into the grave.  They didn't just sprinkle dirt on Jesus.  They fully immersed Him in a tomb.
Remember, baptism does not automatically save you.  Nor does it transform you into a Catholic, Methodist, Anglican, Episcopal, Presbyterian, Pentacostal, Baptist, or any other denomination.  It is an act testifying of your inner faith and acceptance of Jesus Christ as your Lord and Saviour.
Who actually wrote the Bible?
Although there were many scribes who actually wrote the words down, God gave the words to men of God who either wrote it down or dictated it to someone else.  As II Peter 1:21 states, "For the prophecy came not in old time by the will of man: but holy men of God spake [as they were] moved by the Holy Ghost."  So God is the author, man is the scribe.
I have accepted Jesus Christ as my Lord and Saviour, now what?
Praise God!  When you accepted the grace of God's gift of salvation, there was a celebration in Heaven just for you.  You are now a child of God, are going to Heaven, and nothing will ever change that.  But you need Christian fellowship and guidance to help you live and enjoy life the way that God intended for you.  Join a Bible-believing church like Chapel Hill Baptist.  For information, call us at 407-678-5313 or e-mail Pastor Bill at pastorbill@chapelhillbaptist.com.
Can I lose my salvation?
The Bible says, "No".  Because of the perfect blood shed on the cross by Jesus for us, we now have the remission of all sin.  Hebrews 10:10-18 states:  "By the which will we are sanctified through the offering of the body of Jesus Christ once [for all]. And every priest standeth daily ministering and offering oftentimes the same sacrifices, which can never take away sins:  But this man, after he had offered one sacrifice for sins for ever, sat down on the right hand of God;  From henceforth expecting till his enemies be made his footstool.  For by one offering he hath perfected for ever them that are sanctified.  [Whereof] the Holy Ghost also is a witness to us: for after that he had said before,  This [is] the covenant that I will make with them after those days, saith the Lord, I will put my laws into their hearts, and in their minds will I write them;  And their sins and iniquities will I remember no more.  Now where remission of these [is, there is] no more offering for sin."
Ephesians 1:13 says that we are sealed with the Holy Spirit of promise when we become born again.  Ephesians 4:30 says that by the Holy Spirit we are sealed until the day of redemption, when Christ returns for us.  I Peter 1:23 says that we are born again of incorruptible seed.
I'm saved but I've sinned.  Can God forgive me?
Your salvation is your standing.  Your standing never changes.  But your fellowship with God is your state, and that can change.  Think of it like your relationship with your own Dad.  The fact that you are his child never changes.  But if you do something that he does not agree with, then your fellowship with him changes.
When you accepted Christ, you received the gift of Holy Spirit.  That Holy Spirt is perfect and cannot be corrupted.  But you still have to deal with your flesh, which can be tempted.  It's not a sin to be tempted.  It is a sin to act on that temptation.  But it's a simple matter of turning away from that sin and asking God for forgiveness.  He loves you and holds no grudges.
I John 1:6-9  If we say that we have fellowship with him, and walk in darkness, we lie, and do not the truth:  But if we walk in the light, as he is in the light, we have fellowship one with another, and the blood of Jesus Christ his Son cleanseth us from all sin.  If we say that we have no sin, we deceive ourselves, and the truth is not in us.  If we confess our sins, he is faithful and just to forgive us [our] sins, and to cleanse us from all unrighteousness.
What does it mean to "confess my sins"?
First, you don't have to go to someone to confess your sins.  No place in the Bible will you find a verse stating that we must confess our sins to a person.  I John 1:9 says, "If we confess our sins, he is faithful and just to forgive us [our] sins, and to cleanse us from all unrighteousness."  "He" is referring to God.  We confess our sins to God and He forgives us.
But if God already is all-knowing and knows our sins, why do we need to confess them?  For your benefit.  If you confess your sins, you know where you have failed and can attempt to not put yourself in a situation where you will repeat that mistake.  For example, if you have a problem with drinking too much, you know not to go to a bar or hang out with people who live that kind of a lifestyle.